The Beneficiaries 1. THE SCHOOL OF SAINT JUDE.
BENEFICIARY # 1. THE SCHOOL OF ST. JUDE, MOSHONO, TANZANIA.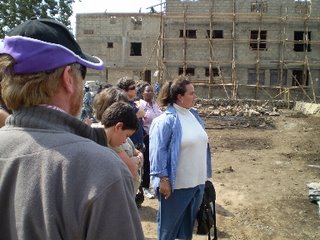 Gemma Sisia the founder of St Jude's showing us the new class rooms and dormitories for the secondary school due to open in 2008. All power to you Gemma, well done!!! One third of the funds we raised from climbing Mount Kilimanjaro will go to providing 2 new electricity generators for this exiting new development. It goes to show you what one person can achieve.
Bob was the fittest in the team, and the first to Uhuru Peak.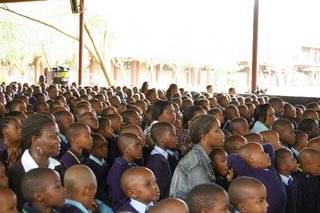 Assembly the best behaved children in the world! What a welcome we received.

Thank you Gemma, boys and girls, we will not forget our visit to Saint Jude's.

Below are the photos of the hand prints collected by Brittany Watson, daughter of Mandy with a note from St Jude's.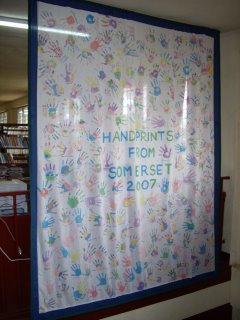 I thought you might appreciate these pictures of your flag hanging proudly in our library. The flag was pinned over the banister of our library after initially being presented to the school. But it was then decided that it should be hung from the ceiling, both to keep it away from the students who loved to put their hands on the imprints on the flag and to act as a curtain to stop the glare on the libraries computer screens. We had Alfonse, our schools carpenter, hang it up two weeks ago and it has got only positive comments. I believe it was your daughters' school who made the hanging for us, so please pass on our thanks (and the photos) to her and her classmates.
I'm sorry it has taken me a while to send them out to you, but we have all been very busy here at the school. Testing has started at the school to try and find 180 new students for next year and with 2000 hopeful children showing up every week, it has been quite a challenge.
Thank you very much for the flag you sent over for us and all your support for the School of St. Jude.
Jacob Mugavin
Donations and Sponsorship
School of St Jude's